Pirro to replace Loris Baz in Barcelona
Michele Pirro looks set to make his fifth appearance of the 2016 season, this time with the Avintia Racing Team in place of Baz.
Tags 
MotoGP
, 
2016
, 
GRAN PREMI MONSTER ENERGY DE CATALUNYA
, 
Michele Pirro
, 
Avintia Racing.
Michele Pirro will replace injured Loris Baz in the Avintia Racing team at the Grand Prix of Catalunya. The Italian rider has been the official test rider for Ducati since 2013, but he has been always in touch with the competition doing several wild cards and some other races replacing injured riders in the past few years both MotoGP™ and World Superbike. The last time out was in the Italian Grand Prix at Mugello and he finished the race in the top 10 riding a Ducati Desmosedici GP16. But in the seventh round of the MotoGP™ World Championship, scheduled for the 3rd to the 5th of June at Circuit Barcelona-Catalunya, Pirro will race the Avintia Racing GP14.2, one bike that he also knows really well.
Agustin Escobar (Avintia Team Racing Manager): 
"First of all I want to wish a speedy recovery to Loris. We are looking forward to see him back in our garage, because is part of our family and we'll be supporting him for his come back, hopefully in Assen. And I want to say big thanks you to Ducati for letting us Michele Pirro to replace Loris in the next race. We couldn't find a better rider and I think that will be very important that he rides our bike in Barcelona. He is a fast riders and he knows all the Ducati bikes. It will be interesting to work together and I'm sure that he will give some valuable information tour engineers to improve theb bike set up and the electronics."
Michele Pirro: 
"I'm happy to be at in the race in Barcelona. I'll be riding a GP14.2, a bike that I haven't ridden for about two years. I will do my best to help the Avintia team. For them it is the home race and I will give my best to make a good result. The week will be challenging because until Wednesday, I am committed to Misano in a test with the Desmosedici GP; however I am ready . I hope to help as much as possible to do a good GP for the team. I wish Loris all the best to come back soon and in better shape because he has had a bad injury; also thanks to the Avintia team for this opportunity and Ducati for its increasingly strong support."
Source: MotoGP™
---
Positive Valencia Test for Suzuki in Valencia
Team Suzuki Ecstar went for a two day test in Valencia after Mugello, testing several new parts.Tags 
MotoGP
, 
2016
, 
Aleix Espargaro
, 
Maverick ViÑales
, 
Team SUZUKI ECSTAR
Following a thrilling Mugello race in Italy last weekend, Team Suzuki Ecstar moved to Valencia in Spain for two-days of exclusive testing to allow Suzuki engineers and technicians to evaluate several new parts; primarily to find new set-ups that will improve the traction and grip of the Factory GSX-RR.The Suzuki Factory delivered two different specifications of the chassis, which have been tested intensively by Maverick Viñales and Aleix Espargaró; and their feelings were positive today, having gained more confidence in riding and improvement in efficiency. Together with the chassis', engineers introduced many variations in the geometry of the machines and set-up configurations, as well as many new finalisations to the electronics.The two-days of testing has been very demanding due to the tight schedule, but having a track at its exclusive disposal allowed the riders to find more efficiency, whilst also improving the feeling with the team.
Maverick Viñales: 
"It's been positive for us to take profit from this private test, we needed to find more efficiency with the traction and we also worked for many other improvements. The Suzuki factory sent us many pieces to test and also new configurations, so we tried some improvements in the chassis and also many set-up configurations. It was a positive test, we had a great deal of feedback that will be useful for the future to determine the paths to take. The GSX-RR is already a very good machine in certain areas; like the fast corners and its agility, but lacks in some other areas. We are working to find a good balance and be more and more performing."
Aleix Espargaro:
 "The Mugello weekend was tough but testing is always important for us, as we are still in the development process and we need to grow as fast as possible. Here we had many things to test as the Factory is working very hard to give us all its support. We had two different steps on the chassis and one of them gave me very positive feeling, so we have made another step forward. Of course we need to further investigate our options; in Barcelona we will continue this work, but it is very positive that we have this support and we are consistently improving."
Source: MotoGP™
---
Baz set to miss Catalan GP
Surgery on his injured right foot went well, but Loris Baz will sit out round seven in order to fully recover.
Tags 
MotoGP
, 
2016
, 
GRAN PREMI MONSTER ENERGY DE CATALUNYA
, 
Loris Baz
, 
Avintia Racing
Avintia Racing rider Loris Baz went under the knife to fix his right foot fractures on Wednesday the 26th of May 2016 in Switzerland. Baz was injured after crashing during the start of the Italian Grand Prix at Mugello last week. The surgery carried out by Dr. Adrien Ray, Dr. Finn Mahler's team foot specialist, at the hospital La Tour Meyrin, Geneve, was successful, despite a fracture being more complicated than it seemed at Mugello's hospital. Dr. Ray needed one hour and a half to fix the fractures with three titanium plates, plus two nails and fifteen screws.The bad news is that the estimated rehab process will be long, four to six weeks, so it will be impossible for Loris Baz to get on the bike for the next round of the World Championship scheduled at the Circuit Barcelona-Catalunya. He left the hospital on Thursday, but Baz will have to wait one week before starting to work with the physiotherapist. Even so, the 23 year old Frenchman is eager to come back for the Dutch TT at Assen in four weeks time.The team will announce Baz's replacement in the coming days.
Loris Baz:
 "It's a shame, because the injury is quite big, not in terms of health risk, but it will take some time to heal. Is not just one broken bone, are all foot, because the one that is not broken, the ligament does so. It was a tricky injury but I'm happy with the great job made by Dr. Mahler's team. Unfortunately miracles don't exist, and my bones won't heal in one week, so it's impossible to be fit for Barcelona. Want to be back in Assen, and we'll work together to make it happen. Now I'll go home and rest for a couple of days, because I can't do any exercise for one week. Then I'll start to work with the physio, also trying to keep my physical condition. I wan to say big thank you to my team, Bocha, Raul, my mechanics, also Hector, who is always calling asking for news. Is difficult when you are at the hospital when you want to ride your bike, but when you know the team you have, that believes and support you, is something I really appreciate. Of course I want to thank my family because they have been with me every single minute. And also big thank you to the staff of Mugello's hospital, the MotoGP Medical Team and the Clinica Mobile, because they did a great job to set the dislocations."
---
Silverstone charity event to go ahead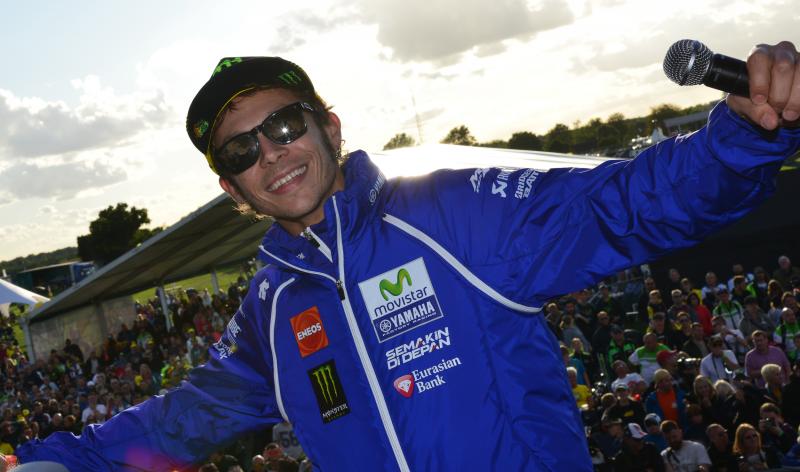 The traditional charity event held on the Thursday of the British GP at Silverstone involving teams and riders will go ahead as planned.
MotoGP™ fans will be delighted to hear that there will be the traditional charity event conducted on Thursday of the Octo British Grand Prix with activities involving teams, riders, the highly-anticipated auction, access to the paddock etc. and the profits generated will be to support programs in Africa.
Said Andrea Coleman, founder of the event "There have been some delays in putting tickets on sale for the event but with the support of MotoGP™ and the Circuit of Wales we have been able to overcome the administrative difficulties of the past few months and the money raised will, once again, be using two wheels to save lives in Africa." 
Look out for tickets to go on sale on the Silverstone site shortly.
Source: MotoGP™
---
Pedrosa Blog: My 250th GP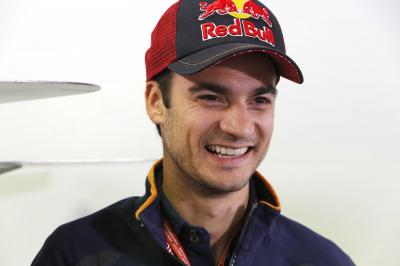 In his latest boxrepsol.com blog Dani Pedrosa looks back on his 250th GP and reveals a trick of the trade.
Hello,I'm writing to you after a positive weekend. I really got into the swing of racing with the bike, especially towards the end of the race. I also felt a lot more comfortable with the tyres.It was a shame I didn't get on the podium, but I came very close. At least I'm heading back from Mugello feeling satisfied after getting my fastest lap on the last lap of the GP.Italy was my 250th GP and that's why I'm a bit sad I couldn't celebrate it on the podium, but I'm still proud of having reached that figure. All I'm thinking about now is getting some good results and big successes for the team.I can't wait for the next GP and to try and develop the bike more, keep on progressing, and meet the fans.Before saying goodbye, some of you have asked me about something you've seen on TV: I sometimes put bandages on my hands before going out on the track. It's something I do to protect my hands from the gloves when I've got any blisters or cuts. This is very common, especially when the gloves are new. It's just to protect my hands.
QUESTION OF THE WEEK (From Joey):
How early on in a race weekend do you know if the race is going to be easy or difficult? Or does it all depend on the race day itself and how you and the bike are?
Hi Joey.From practice on Saturday you can tell more or less the race, but not always is exactly like practice or predictions are after practice. Your inner feeling is crucial to change things your way.Dani Pedrosa
Tags: 
MotoGP
, 
2016
, 
GRAN PREMIO D'ITALIA TIM
, 
Dani Pedrosa
, 
Repsol Honda Team
, 
Blog
Source: MotoGP™
---
Marquez Blog: A battle to the end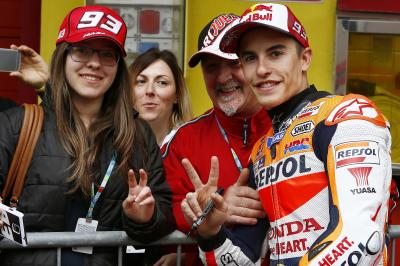 In his latest blog for boxrepsol.com Marc Marquez reflects on an incredible Italian GP and looks ahead to Barcelona.
Hi everybody!
I came back from Mugello feeling very satisfied. It was a hard weekend, like most this year, as we had to work quite hard to make the appropriate adjustments for the race.
In the end I was quite competitive and I think that we were able to offer the spectators a great show: a duel with Lorenzo where we battled for victory until the last second.
It's a pity to have lost on the finish line itself; it's a bit upsetting…but I have to look on the bright side. The truth is that those 20 points are very important. Last year at Mugello, for example, I finished without scoring.
I'm very close to leading and I have quite a bit ahead of me. What I have to do now is keep pushing. Honda is also going to keep working hard; they are trying to make us more and more competitive.
I'm feeling optimistic about the Catalan GP. I know that it isn't one of the circuits that I do best, but I'm sure that I'll be able to keep this dynamic up. It will also be important for us to take advantage of the test before the GP; the goal is to keep improving.
The truth is I'm very excited to have my fans close. Cervera isn't very far from Montmeló and I'm sure they will be cheering me on from the stands. If you'd like to join them, Fan Club Marc will be in grandstand G, sections 14 to 24.
QUESTION OF THE WEEK (from Clàudia C.):
I'm curious to know how old you were when you started studying English?
Hey Claudia,
Your question is very interesting. I have to think about it…It was when I started primary school when I was about five years old, although I really began to apply myself when I got to the World Championship, just after my 14th birthday.
Best wishes,
Marc
Source: MotoGP™
---
A day of mixed fortunes
Luck plays a big role in everyone's life and as Mugello showed, it can be a cruel mistress.Tags 
MotoGP
, 
2016
, 
GRAN PREMIO D'ITALIA TIM
, 
RAC
With 21 years of experience reporting on MotoGP™, Matthew Birt knows the championship inside-out. For the 2016 season he remains with the motogp.com team to bring you exclusive news and opinion from inside the paddock
.Luck is defined as a force that brings good fortune or adversity to a person's life.It shapes events, circumstances and opportunities over which an individual has no control.God-given riding talent and genius engineering expertise play a pivotal role in deciding the outcome of a MotoGP™ race and ultimately a World Championship.Sunday's dramatic Mugello round highlighted just how luck is such a key contributing factor in shaping the destiny of a World Championship.Valentino Rossi's luck deserted him at a time when he looked in the strongest position to win at his spiritual home for the first time since 2008.The hills overlooking Mugello were alive with the sound of revving engines, loud music, air horns and fans roaring themselves hoarse as a boisterous and predominantly yellow-clad crowd watched expectantly as Rossi menacingly harassed Movistar Yamaha teammate Jorge Lorenzo.Fans were dreaming, just as Rossi was, that he would once again be the master of Mugello.A memorable sight in the build up to the race was yellow smoke wafting around the track. It was smoke of a different colour belching out of Rossi's crippled YZR-M1 on lap eight that ruled him out in the cruelest manner.A catastrophic engine failure ended his pursuit of Lorenzo, and as his motor fell silent, an eerie quiet quickly replaced the frenzied atmosphere.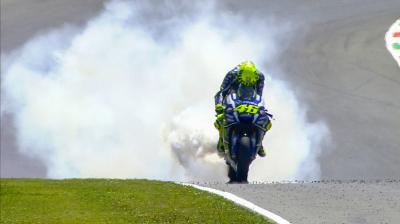 Rossi was devastated but typically philosophical. He couldn't alter what happened but he was hurting so much that he couldn't bring himself to visit the podium to receive the adulation of his loyal but shell-shocked supporters. The timing of his first mechanical failure since Yamaha's brand new pneumatic valve motor gave up the ghost in Misano way back in 2007 could have seriously damaged his title aspirations. As Rossi and Yamaha sought answers to the engine failure, he had to sit and watch a classic battle unfold between Lorenzo and Marc Marquez that saw them move 37 and 27 points respectively clear of the Italian. Hindsight is a wonderful thing, but I think Rossi would have won on Sunday had lady luck not slapped him in the face. He looked comfortable behind Lorenzo and was patiently waiting for the right time to pounce, with the Spaniard clearly not possessing the pace to streak away like he so often does. Rossi's luck contrasted completely with that of Lorenzo's. The Spaniard had also been the victim of an incredibly rare Yamaha engine failure in the pre-race Warm Up session. But he could not have imagined what a stroke of luck that engine destroying itself would turn out to be. He dodged a bullet on a day that Yamaha's reputation for bulletproof reliability took a battering. Losing one engine was incredibly rare for Yamaha, so to see two let go in less than five hours was a truly unique scenario. Luck had been on Lorenzo's side and he fully acknowledged it. Had he done one lap less in the Warm Up then he would have started the race with the engine that was doomed and been condemned to the same fate as Rossi. The time gap between Lorenzo and Rossi's identical issues was too short for Yamaha to conduct a thorough investigation of the cause. And with no clear diagnosis in Mugello, there was no cast iron assurance that a worried Rossi would not have escaped such a high profile and demoralising mechanical meltdown had he opted to run a brand new engine. Rossi's blown engine was fresher than the one that went pop on Lorenzo and both were short of what can be classed as top mileage, so it seems unlikely that hard wear was the cause. Yamaha clearly could not have predicted how severe their technical woes would be. The blown motors were Rossi and Lorenzo's third of seven in their 2016 allocation. It has since been revealed that their first two had reached double mileage of engine number three without missing a beat. Yamaha must not only identify the source of the failure but also navigate a solution through the strict freeze on in-season engine development. Engine modifications can only be made on safety grounds and unanimously sanctioned by the Motorcycle Sport Manufacturers Association (MSMA). One early theory in Mugello is that Rossi and Lorenzo's engine problems could be the result of a defective batch of parts. If Yamaha can prove that was the case then it may be given room to manoeuvre. Rossi's exit sent many disgruntled fans heading for the exit, but those that remained were treated to a breath-taking showdown between Lorenzo and Marquez. Lorenzo won by less than a bike length after a final lap that again buried the myth that the reigning World Champion can't get his knuckles dirty when the combat gets close.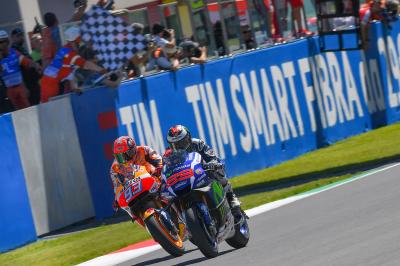 Crucially for his title hopes, he capitalised on the good luck that came his way. Hopefully for the spectacle of the World Championship, then the bad luck that came Rossi's way doesn't mean his own title hopes have gone up in smoke.
---
Bautista: "I felt the wheel lock up and I crashed"
Two crashes on Sunday leave Alvaro Bautista outside the points in Mugello and dusting himself off for Barcelona.
Tags 
MotoGP
, 
2016
, 
GRAN PREMIO D'ITALIA TIM
, 
RAC
, 
Alvaro Bautista
, 
Aprilia Racing Team Gresini
, 
Reaction
Sunday started on an unfortunate note for Alvaro Bautista who took a tumble during morning Warm Up. While he was ok, his Aprilia RS-GP certainly was not and he was therefore forced to use his number two machine for the race. It was a race which did not last long as Bautista tried to make up ground in the first corner, subsequently losing the front and finishing ending his race in the San Donato gravel trap. His fall saw Jack Miller (Estrella Galicia 0,0 Marc VDS) and Loris Baz (Avintia Racing) also go down, Bautista deeply apologetic to the pair for his mistake.
First of all I want to apologise to Baz and Miller, who I involuntarily involved in my crash
-Alvaro Bautista
Alvaro Bautista:
 "After the crash in the warm-up session I had to use the second bike for the race. In the warm-up lap the front brake felt strange, so I adjusted the lever before the start. When I got to the first turn I braked normally, but as I was leaning the bike into it I felt the wheel lock up and I crashed. First of all I want to apologise to Baz and Miller, who I involuntarily involved in my crash. I'm disappointed because, despite the fact that it wasn't my best weekend, I was confident in my race pace. Now we need to do a mental reset and think about the next round in Barcelona"
Source: MotoGP™
---
Petrucci: "I will take my revenge in Barcelona!"
 Bradley Smith had better watch out because Danilo Petrucci is coming for him in Barcelona after losing out to the Brit in Mugello.
Tags 
MotoGP
, 
2016
, 
GRAN PREMIO D'ITALIA TIM
, 
RAC
, 
Danilo Petrucci
, 
OCTO Pramac Yakhnich
, 
Reaction
Having only had his first race of the year in Le Mans, Danilo Petrucci is showing incredibly well upon his return from injury. The Italian started in ninth, his best Qualifying result since Aragon in 2015, and was competitive throughout the weekend. His speed carried into the race, which got off to a less than ideal start after contact with Pol Espargaro (Monster Yamaha Tech 3) and sent Petrucci back down the order. The Italian found his feet quickly and began to close in on Bradley Smith (Monster Yamaha Tech 3), who was the leading Independent Team rider. His charge through the field saw him pass the factory machine of Aleix Espargaro (Team Suzuki Ecstar) and set his personal best lap of the race towards the end. The Octo Pramac Yakhnich man was unable to pass Smith who had a half second advantage in the closing laps.Eighth place is a great result for Petrucci and the team, but he was not satisfied. Petrucci had wanted to end as the top Independent Team rider and once again Bradley Smith stood in his way. Petrucci missed qualifying as the top Independent Team rider, Smith just 0.014s quicker. But Petrucci is planning his revenge at round seven in Barcelona where he's ready to go toe to toe with Smith in the battle for parc ferme.
Danilo Petrucci: 
"It was a good race. My team always did a great job, giving me the best bike and finding the best solution for every little thing. I struggled in the first 4-5 laps, then I started to push to catch Smith. I tried to do my best and I set the best time with four remaining laps. I am very happy with how the bike goes and how competitive it is. My regret is to have not been the best Independent rider, as Bradley passed me yesterday and he did it again today by very little, but I'm happy. I will take my revenge in Barcelona!"
---
Hernandez: "I grabbed the clutch and the bike moved"
 A jump start penalty ruined Yonny Hernandez's chance of finishing in the points in Mugello, salvaging 16th.
Tags 
MotoGP
, 
2016
, 
GRAN PREMIO D'ITALIA TIM
, 
RAC
, 
Yonny Hernandez
, 
Aspar Team MotoGP
, 
Reaction
What had been a very promising weekend was brought to a disappointing end before the race had even properly begun, Yonny Hernandez moving slightly on the starting line for which he was handed a jump start penalty. The subsequent ride through was especially disappointing as it made Hernandez's 12th place grid position, his best of the year, worthless. A ride through penalty in Mugello is especially detrimental, the 60km/h pit lane limit a far cry from the 300km/h + all the riders were reaching. Some hope was offered when Pol Espargaro (Monster Yamaha Tech 3) crashed, but the Spaniard was eventually able to re-pass Hernandez and demoted the Colombian back to 16th.
Yonny Hernandez: 
"After a weekend in which we have been very competitive, it is very sad to finish the Grand Prix in this way. We were closer to the top riders than usual and we have done very well in general, but I was very surprised by the penalty. The bike moved a bit off the start: I grabbed the clutch and the bike moved by itself. By the time I realised, it was a little late. It's a shame because I was having a good race: I was twelfth, which is more or less what we had predicted, and was fighting to enter the top ten -but it was not to be. Anyway, we continue with good energy, in order to face the next race in the best way. I'll take the positives from this one, which is that throughout the weekend we were among the first ten riders."
Source: MotoGP™